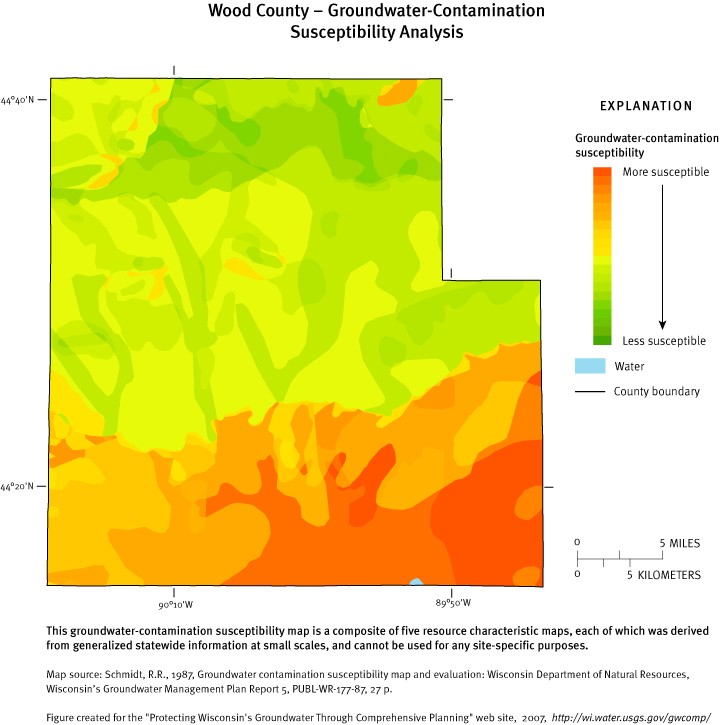 In Wisconsin, 70% of residents and 97% of communities rely on groundwater as their drinking water source. Wisconsin has abundant quantities of high-quality groundwater, but once groundwater is contaminated, it's expensive and often not technically possible to clean. Because of these factors, we need to be careful to protect our groundwater from contamination. Our activities on the land can contaminate groundwater - most contaminants originate on the land surface and filter down to the groundwater. In some cases however, groundwater can become contaminated from natural causes such as radioactivity due to the presence of radium in certain types of rocks.
"Susceptibility of Groundwater to Pollutants" is defined here as the ease with which a contaminant can be transported from the land surface to the top of the groundwater called the "water table". Many materials that overlie the groundwater offer good protection from contaminants that might be transported by infiltrating waters. The amount of protection offered by the overlying material varies, however, depending on the materials. Thus, in some areas, the overlying soil and bedrock materials allow contaminants to reach the groundwater more easily than in other areas of the state.
In order to identify areas sensitive to contamination, the Wisconsin Department of Natural Resources, in cooperation with the University of Wisconsin Extension, Wisconsin Geological and Natural History Survey and the USGS, has evaluated the physical resource characteristics that influence this sensitivity.
Five physical resource characteristics were identified as important in determining how easily a contaminant can be carried through overlying materials to the groundwater. These characteristics are depth to bedrock, type of bedrock, soil characteristics, depth to water table and characteristics of surficial deposits. Existing statewide maps of these five characteristics were used whenever possible. New maps were compiled when existing information wasn't already mapped. The resource characteristic maps used in this project were compiled from generalized maps at a scale of 1:250,000 or 1:500,000.
Each of the five resource characteristic maps was put into digital form using a Geographic Information Systems (GIS) program. All of the information contained in the five maps was overlaid and combined into one composite map. A numeric rating scheme developed for each map was used to score the maps and the five resource map scores were added together within GIS. The composite map shows the scores for each area – low scores represent areas that are more susceptible to contamination and high scores represent areas that are less susceptible to contamination.
The method described above is a subjective rating method; specifically an index method. An index method assigns a subjective ratings or score to physical resource characteristics of an area to develop a range of contamination susceptibility categories (ranging, in this case, from more susceptible to less susceptible). Index methods are fairly popular approaches to groundwater susceptibility, because they are quick and straightforward, and they use data that are readily available. However, the mapped distribution of susceptibility categories produced by an index method is typically fraught with uncertainty, primarily due to the subjectivity in the approach. The susceptibility categories include little quantifiable or statistical information on uncertainty and this limits their use for defensible decision making. So while susceptibility maps produced using index methods can be useful, their inherent uncertainty must be kept in mind. (National Research Council, 1993; Focazio and others, 2002).