NATURAL DISCHARGE OF GROUND WATER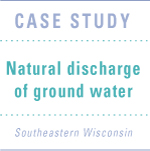 Under natural conditions ground water discharges mostly to surface-water bodies. The diagram below shows two discharge areas - one a stream or lake, the second a wetland. Both are connected to the shallow, unconfined, water-table aquifer.
The leakage of water down from a shallow part of the ground-water flow system through confining units to a deeper part of the flow system can be seen as a kind of internal discharge. Ultimately, this leakage moves laterally and discharges to regional surface sinks like a Great Lake:
Sample ground-water flow lines that discharge to a Great Lake are shown in the following VIDEO CLIP (3394 kb). It contains a three-dimensional view of selected ground-water flow lines circulating from the water table toward the Lake. The colors along the flow lines correspond to minimum estimated times of travel in years.
Most of the flow lines originate near the coastline and discharge upward to the Lake, but some originate further inland or leak to deep formations and flow under the Lake to the east.
To next concept --> Surface-water and natural ground-water divides