GROUNDWATER QUALITY
NITRATE
100% of 43 private well samples collected in Forest County from 1990-2006 met the health-based drinking water limit for nitrate-nitrogen.
Of the 43 samples that have been collected in the county, 5 samples (12%) contained between 2 and 10 mg/L (milligrams per liter, or parts per million) nitrate-nitrogen, and serve as indicators that land use has likely affected groundwater quality. No samples exceeded the health-based drinking water limit of 10 mg/L nitrate-nitrogen.F1
As shown in the map on the right, there are no samples where nitrate-nitrogen levels were elevated.F2
Introduction and Sources of Nitrate
In 2006, the WDNR and the Wisconsin Department of Agriculture, Trade and Consumer Protection (WDATCP) reported that nitrate-nitrogen (NO3-N) is the most widespread groundwater contaminant in Wisconsin, and that the nitrate problem is increasing both in extent and severity.F3 In Wisconsin's groundwater, 80% of nitrate inputs originate from manure spreading, agricultural fertilizers, and legume cropping systems.F4 On-site wastewater systems (septic systems) can also be a significant nitrate source in densely populated areas, areas where fractured bedrock is near the surface, or areas with coarse-textured soils.F5
Concentrations of nitrate-nitrogen in private water supplies frequently exceed the drinking water limit (federal and state Maximum Contaminant Level, or MCL) of 10 mg/L. In 2005, the WDNR combined data from three statewide groundwater databases and found that 11.6% of 48,818 private wells exceeded the nitrate limit.F3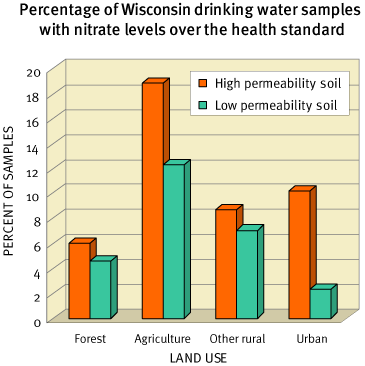 Land use affects nitrate concentrations in groundwater. As shown in the figure on the right, an analysis of over 35,000 Wisconsin drinking water samples found that drinking water from private wells was three times more likely to be unsafe to drink due to high nitrate in agricultural areas than in forested areas. High nitrate levels were also more common in sandy areas where the soil is more permeable.F6 Groundwater with high nitrate from agricultural lands is more likely to contain pesticides than groundwater with low nitrate levels.F7
Health effects of nitrate
READ MORE
Ecosystem effects of nitrate
READ MORE
Solutions
READ MORE
Planning
READ MORE
PESTICIDES
A 2002 study estimated that 18% of private drinking water wells in the region of Wisconsin that includes Forest County contained a detectable level of an herbicide or herbicide metabolite. Pesticides occur in groundwater more commonly in agricultural regions, but can occur anywhere pesticides are stored or applied.F24
There are no atrazine prohibition areas in Forest County.F25

Definition and Use
A pesticide is any substance used to kill, control or repel pests or to prevent the damage that pests may cause.F26 Included in the broad term "pesticide" are herbicides to control weeds, insecticides to control insects, and fungicides to control fungi and molds. Pesticides are used by businesses and homeowners as well as by farmers, but figures for the amounts and specific types of pesticides used are not generally available on a county-by-county basis.
A 2005 report indicates that approximately 13 million pounds of pesticides are applied to major agricultural crops in Wisconsin each year, including over 8.5 million pounds of herbicides, 315,000 pounds of insecticides, one million pounds of fungicides, and 3 million pounds of other chemicals (this last category applied mainly to potatoes).F27 The report also shows that herbicides are used on 100% of carrots for processing, 99% of potatoes, 98% of cucumbers for processing, 98% of soybeans, 97% of field corn, 89% of snap beans for processing, 87% of sweet corn, and 84% of green peas for processing. Insecticides are used on 97% of potatoes, 96% of carrots, and 88% of apples. Fungicides are used on 99% of potatoes, 88% of carrots, and 89% of apples.
Crops by acreage grown in Forest County in 2005-06
and average pesticide application per crop in Wisconsin.
The number of pounds of pesticide applied per acre in Wisconsin varies greatly by crop, from 28 pounds/acre for apples to less than one pound/acre for oats and barley (see table below).F27
Total pounds of pesticides applied to
major crops in Wisconsin, 2004-2005.
Crop

Acres

Total pounds
of pesticides applied

Pounds of pesticides
applied per acre

Apples

5,800

163,300

28

Potatoes

68,000

950,000

14

Tart cherries

1,800

14,700

8

Carrots for processing

4,200

29,400

7

Snap beans

76,000

251,600

3

Sweet corn

88,400

198,000

2

Field corn

3,800,000

6,503,000

2

Green peas for processing

30,200

33,500

1

Soybeans

1,610,000

1,770,000

1

Cucumbers for processing

4,600

3,800

1

Cabbage, fresh

4,400

2,700

1

Barley

55,000

5,000

<1

Oats

400,000

25,000

<1
Atrazine Prohibition Areas
As of 2006, the WDATCP has prohibited the use of the popular corn herbicide atrazine on 102 designated atrazine prohibition areas in Wisconsin, covering about 1.2 million acres.F25 There are no atrazine prohibition areas in Forest County.
Environmental fate of pesticides
Once a pesticide is applied, it ideally will harm only the target pest and then break down through natural processes into harmless substances.
However, the actual fate of pesticides in the environment may include evaporation into the air; runoff into surface water; plant uptake; breakdown by sunlight, soil microorganisms or chemical reactions; attachment to soil particles; leaching into groundwater; or remaining on the plant surface and removal at harvest.
The WDATCP conducted a private well water study from 2000-2001, looking for some of the most commonly used herbicides in Wisconsin.F29 From that study, the statewide estimate of the proportion of private drinking water wells that contained a detectable level of a herbicide or herbicide metabolite (breakdown product) was 37.7%. The map at the right shows the estimated percentage of wells containing herbicide or herbicide metabolites by region. The study did not look at less commonly used herbicides or any insecticides or fungicides. WDATCP is doing a similar study in 2007 that includes analysis for a greater number of pesticides.
READ MORE
Health effects of pesticides
READ MORE
Planning
READ MORE
ARSENIC
100% of 1 private well sample collected in Forest County met the health standard for arsenic.F43

Of the 1 water sample analyzed for arsenic in Forest County, 1 sample has detectable arsenic and no samples are greater than the recently reduced drinking water limit of 10 µg/L (micrograms per liter, or parts per billion).F44
Most private wells in the county have unknown arsenic levels.
Introduction
Arsenic is an element that occurs naturally in some of Wisconsin's aquifers and may contaminate well water drawn from those aquifers. It is a particular problem in parts of the Fox River valley of northeastern Wisconsin. However, arsenic has been detected in wells in every county in Wisconsin, and arsenic concentrations greater than the drinking water limit of 10 µg/L have been documented in 51 of Wisconsin's 72 counties.F3
Health effects of arsenic
READ MORE
Release of arsenic into groundwater
READ MORE
Planning
READ MORE
For further information on arsenic, please visit the WDNR Arsenic in Drinking Water and Groundwater web site.
OTHER GROUNDWATER CONTAMINANTS
Information on volatile organic compounds, pharmaceuticals and personal care products, and chloride.
READ MORE